8Expert Score
The LG 65UM7300 is a smart 4K television that offers outstanding display features such as good viewing angles and a low input lag. Furthermore, this TV runs on the webOS that is integrated with the ThinQ AI technology. Sadly, the LG 65UM7300 has a mediocre contrast ratio and poor brightness.
Design, Dimension, And Weight
7
Display Features And Picture Quality
8
Ports And Connectivity Features
9
PROS
1. ThinQ AI
2. Low input lag
3. Decent viewing angles
4. Good for gaming
CONS
1. Inadequate contrast ratio
2. Not-good-enough sound performance
3. Mediocre peak brightness
4. Expensive
$999.99
Have you been in search of an LG smart television with ThinQ AI? If yes, then this LG 65UM7300 review is for you.
In this review, we will be discussing every detail of the LG 65UM7300 by segmenting its features in an outlined series. Hence, you will get to know everything about the television's design, display features and picture quality, and sound features.
That's not all, you'll also get to know the ports and connectivity features as well as the smart features of the television. Besides, at the end of each section, I will be rating the television on a scale of one to ten.
It is important to mention that these ratings will be based on how well I think the television performed and its features. Hence, to be able to make a well-informed purchase decision, I strongly advise you to read this article all the way through.
LG 65UM7300 Review: My Initial Thoughts
As most of us know, LG is a global brand that is known for producing reliable home appliances such as home theaters and televisions. In 2019, the brand released the UM7300PUA as a means of expanding its television collection.
The LG UM7300PUA is a 4K smart television that is available in numerous sizes/models to suit various users' needs and preferences. However, this review article focuses on the 65-inch model (LG 65UM7300PUA) of the television.
The LG 65UM7300PUA offers a good picture quality and quite a number of ports. Also, this television comes with lots of innovative smart features like the ThinQ AI and magic remote.
However, the TV is a bit expensive, starting at a price tag of $999.99 as of May 2022 (when this article was published). Does the LG 65UM7300PUA offer enough features and adequate performance to justify its expensive price tag?
You will have to continue reading to find out!
LG 65UM7300 Design, Dimension, And Weight Review
The LG 65UM7300 comes with a simple design, unlike most LG premium television sets. It has black plastic bezels bordering its 65-inch display screen that are not too thin or too wide – they are basically averagely-sized.
Hence, the bezels shouldn't cause any sort of distraction when watching the television. Moreover, the bottom bezel, which is slightly wider than the top and side bezels, houses an "LG" logo at the center.
This logo not only serves as a means of brand recognition but also gives the television's front view a bit of elegance.
That said, the LG 65UM7300 is equipped with a set of plastic legs that features a matte-black finish. These legs are wide apart, so you will require a large table to place the television on.
Moreover, despite being made of plastic, the legs provide adequate support for the TV to stand firm. However, the television might wobble a bit when nudged.
Proceeding to the rear, the LG 65UM7300 has a plastic panel. This rear panel is quite plain with a matte-black finish and has no cable management system to help tidy cables connected to the television.
Also, all the ports of the television can be found on the right side of the rear, and the power source is found on the left side. In addition to that, the LG 65UM7300's rear panel has 300 x 300 VESA mount holes that helps in wall-mounting the television.
However, the TV will stick out a bit if wall-mounted. This is due to the chunky form of the TV.
Specifically, the dimension of the LG 65UM7300 is 1463 x 88.9 x 850.9 mm (W x D x H). Compared with the Samsung QA65Q9FNAWXXY, which measures 1450.1 x 38.9 x 830.4 mm (W x D x H), this television is way chunkier.
However, the LG 65UM7300 is lighter, weighing just 21318.8 g, while the Samsung QA65Q9FNAWXXY weighs 26700 g.
To conclude this design review section, I will be rating the LG 65UM7300 a seven out of ten.
LG 65UM7300 Display Features And Picture Quality Review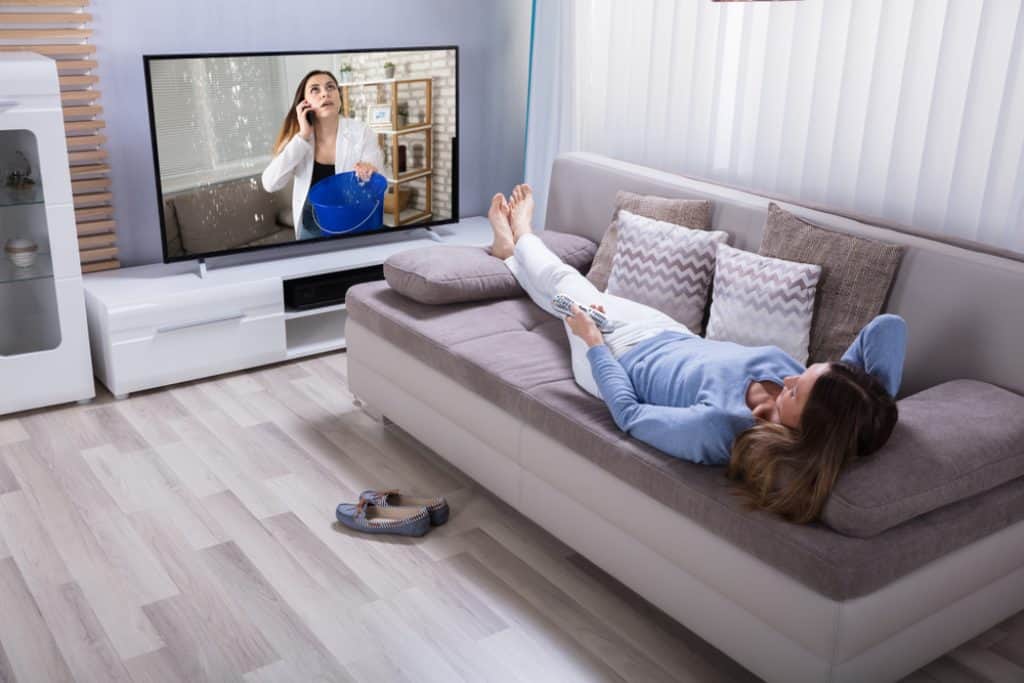 The LG 65UM7300 offers an impressive picture quality thanks to its quad-core picture processor and 4K UHD (3840 x 2160). Hence, images should look colorful, sharp, and clear on the television's 65-inch display.
That aside, the LG 65UM7300 comes with a 60 Hz refresh rate. In case you are wondering, refresh rate is the time in which display pixels are able to refresh or update new images per second.
This means that the display of the LG 65UM7300 can update new images as fast as 60 times per second. Hence, fast-moving content or images should appear smooth on the television, thereby achieving optimum picture clarity.
Having said that, let us discuss the contrast ratio of the television. Briefly, the contrast ratio is the luminous distinction between the highest and lowest shades a display can produce.
Moreover, for a display to be able to produce deep and rich blacks, a high contrast ratio (3000:1 or higher) is required. Sadly, the LG 65UM7300 offers a poor contrast ratio of 1,105:1.
As a result, blacks on the television's display will appear greyish. Thus, the television might not be ideal for usage in dark rooms.
Also, the LG 65UM7300 won't be particularly good for watching movies with lots of dark or shadowy scenes. It doesn't stop with the poor contrast ratio, the LG 65UM7300 also does not support local dimming.
For better understanding, local dimming is a technique that dims a display's backlight zones so as to boost its blacks level – how deep/rich its blacks can be. Thus, with the absence of local dimming, there is really no hope of getting deep blacks on the LG 65UM7300's display.
Moving on to the brightness, the LG 65UM7300's display offers an average maximum brightness of 329 nits. Although this brightness is enough for moderately-lit rooms, the display will struggle to keep up in bright rooms or outdoor.
On the bright side, the LG 65UM7300 has good reflection handling. This is due to the semi-gloss coating on its screen that helps to counter reflections and sun glares that may cause distraction.
In addition to its good reflection handling, the LG 65UM7300 also offers decent viewing angles. Although the television's viewing angles aren't as good as IPS panel televisions, it is preferable to VA (vertical alignment) panel TVs.
Thus, colors and images don't fade much and stay accurate when watching the television at average angles. However, at extreme angles, colors might look washed out, and picture quality will deteriorate.
Moving on, the LG 65UM7300 supports HDR (High Dynamic Range). HDR is a picture technology that improves the brightness as well as color accuracy of a display.
Therefore, when watching HDR-compatible content on the TV, images should appear realistic and colorful. If you don't know, HDR-compatible content can be found on streaming apps such as Netflix and HBO.
Away from HDR, the LG 65UM7300 has a 4K upscaling technology. This technology enables the television's display to convert lower resolution content to 4K resolution quality.
As a result, users can enjoy all their favorite HD content in 4K resolution.
That said, the LG 65UM7300 comes with TruMotion 120. This display technology increases the frequency at which the display updates images by doubling the refresh rate.
Thereby, making pictures appear smoother and sharper. With all that being said, let us move to the motion handling performance of the LG 65UM7300.
To start with, we will discuss the response time of the television. For your information, response time is how fast a display can change from one color to another.
On that note, the LG 65UM7300 offers a fast response time of 12.4 milliseconds. Due to this, there will be minimal blur trail when watching fast-motion content on the television, such as racing sports or action movies.
In addition to its fast response time, the LG 65UM7300 offers an amazingly low input lag. To be exact, the TV registered an input lag of 10.8 milliseconds.
This implies that it will take less time for the television's display to register signal inputs from external sources like a wireless gamepad. Besides, low input lag is an important criterion for gamers.
As such, the LG 65UM7300 should be suitable for gaming.
To summarize, the LG 65UM7300 offers 4K resolution, decent viewing angles, and excellent motion handling performance. However, it has a mediocre contrast ratio, inadequate maximum brightness, and lacks local dimming.
Therefore, I will rate the LG 65UM7300 an eight out of ten in the display review section review.
LG 65UM7300 Sound Features Review
The LG 65UM7300 comes with a pair of in-built 10-watts speakers. That's a total sound output of 20-watts, meaning the speakers should be loud enough.
However, that's not the case with these television's speakers, as they are not even loud enough to fill a medium-sized room with sound. To make matters worse, the television doesn't produce enough bass due to its lack of a subwoofer.
Thus, you won't get the best sound experience when watching bass-heavy movies or listening to bass-heavy music on the TV. Nevertheless, you can consider buying a soundbar alongside the television for adequate bass production.
On the bright side, the LG 65UM7300 produces a well-balanced sound quality. As a result, dialogue becomes quite clear and very understandable.
In case you are curious, dialogue is the interaction or conversation between more than one character. Hence, while watching a movie on the television, you will be able to hear and clearly understand what the characters are saying.
Besides, clear dialogue is important so as to enjoy news, TV shows, and sports commentaries.
That aside, the LG 65UM7300 features a sound technology known as DTS-HD. This technology helps the television's speakers deliver multiple virtual surround sound audio.
However, it works only when an external sound system is connected to the TV.
Proceeding to the distortion performance of the television. To begin with, the LG 65UM7300 scores 0.600% on a THD (Total Harmonic Distortion) test.
For clarity, THD is a test that measures the deviation in sound frequency of a sound system. Furthermore, the lesser the score (1% or less) on this test, the lesser the distortion a sound system will be able to produce.
Thus, with a THD score as low as 0.600%, distortion on the LG 65UM7300 will be very minimal and won't be noticeable. By the way, distortion in this context is the change of frequency produced by a sound system.
As a result, making the sound system delivers unwanted noises and unappealing sound quality.
Overall, I will be rating the LG 65UM7300 a seven out of ten in this sound features review section.
LG 65UM7300 Ports And Connectivity Features Review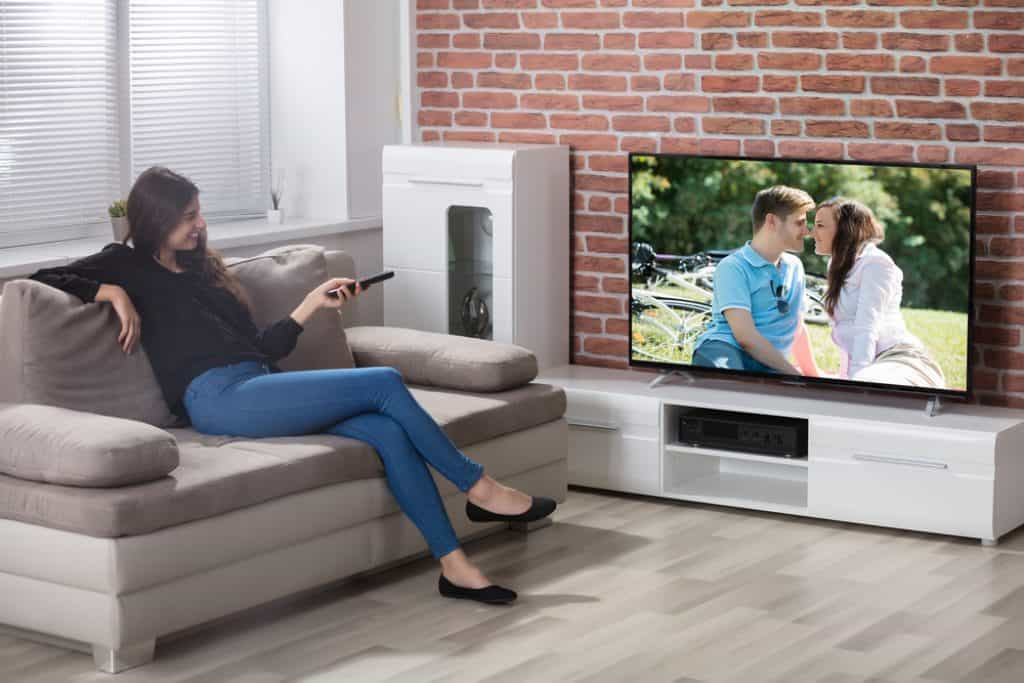 The LG 65UM7300 comes with an adequate number of ports, all situated on its rear panel. Moreover, the ports are separated into two segments, some are directly on the television's back, and some are side-facing.
Starting with the side-facing ports, they include one USB port and two HDMI ports. One of these HDMI ports supports Audio Return Channel, which is sometimes referred to as HDMI-ARC.
Moreover, this particular HDMI port lets users easily connect a soundbar to the television. Regarding the back-facing ports, they include another USB port, one HDMI port, and digital optical audio out.
That's not all, there are also shared composite and component video ports, an RF port, and an Ethernet port. Meanwhile, for wireless connectivity, this LG television has a built-in 802.11ac Wi-Fi and Bluetooth 5.0
Moving on, the LG 65UM7300 comes with a magic remote, just like other expensive high-end LG television models. This remote control is made of plastic with curved edges and a black textured finish.
It also is average in size and should fit in your palm well. Furthermore, it features a good number of buttons, including a full number pad, channel/volume rockers, and an input source button.
One unique feature the LG magic remote has is a circular navigation button with a scroll wheel at the center. This scroll wheel allows you to navigate through the content suggestions of streaming apps with ease.
Besides, the remote features three dedicated buttons for quick access to Netflix and Prime Video. Also, it offers a built-in microphone for voice input via various voice assistants such as Amazon Alexa and Google Assistant.
Hence, by holding down the microphone button on the remote and speaking into the built-in mic, you can control the LG 65UM7300 with your voice.
In conclusion, the LG 65UM7300 comes with a good number of ports and features a magic remote. Therefore, the LG 65UM7300 deserves a nine out of ten rating in this ports and connectivity features review section.
LG 65UM7300 Smart Features Review
If you have been following our reviews on LG televisions, you will realize that most LG smart televisions use webOS. The webOS is an outstanding operating system known for its user-friendly and smooth interface.
Going into detail, the LG 65UM7300 features version 4.5 of the webOS. This operating system functions smoothly like every other version of the operating system.
Also, it is quite easy to navigate, and app selection is swift. Furthermore, at the bottom of the operating system's interface, you will see an application menu.
This menu features most of the pre-installed apps that the operating system offers. Some of the applications include Amazon Prime Video, Netflix, YouTube, Hulu, and Google Movie/TV.
Appreciably, if you ever find these pre-installed apps limited, you can download more from the LG content store. Besides, the LG 65UM7300 is Cast-enabled, meaning you can share/stream content from your smartphones to the television.
Unfortunately, the television's webOS features annoying ads on its interface. As a matter of fact, there is no way you can disable these ads.
On a bright note, the OS is incorporated with LG's ThinQ AI. Moreover, the operating system features a tool known as the home dashboard, which serves as the central hub for all smart home devices.
Hence, with the help of ThinQ AI, this home dashboard give you access to manage all smart home devices connected to the LG 65UM7300. For example, if you have a doorbell camera connected to the TV, you see who is at the door through the television.
All things considered, I will be rating the LG 65UM7300 a nine out of ten in this smart features review section.
LG 65UM7300 Review: Frequently Asked Questions
1. Is The LG 65UM7300 Expensive?
The LG 65UM7300 is somewhat expensive, costing about $999.99 in May 2022 when I published this review article.
2. Does The LG 65UM7300 Have HDR?
Yes, the LG 65UM7300 supports HDR (High Dynamic Range). HDR improves the brightness and color accuracy of the television's display, making images look realistic when rendering HDR-compatible content.
3. When Was The LG 65UM7300 Released?
The LG 65UM7300 was released in 2019.
4. Does The LG 65UM7300 Have WIFI?
Yes, the LG 65UM7300 comes with an in-built Wi-Fi, which will enable you to connect wirelessly to the internet.
5. Does The LG 65UM7300 Have Bluetooth?
Yes. The LG 65UM7300 comes with Bluetooth 5.0.
LG 65UM7300 Review: My Final Thoughts
The LG 65UM7300 is a simple-looking smart television that offers exotic features such as 4K resolution, ThinQ AI, and HDR. Also, the TV comes with decent viewing angles.
In addition to that, the LG 65UM7300 has an adequate number of ports and features LG's magic remote control. That's not all, the TV runs on webOS 4.5 that offers many advanced features and streaming apps.
However, the LG 65UM7300 has some disappointing shortcomings, such as poor contrast ratio, average maximum brightness, and mediocre sound performance. Also, this LG television is somewhat expensive.
Regardless, the television's strengths outweigh its weaknesses. Thus, if you need a 65-inch LG smart television with ThinQ AI, the LG 65UM7300 is a considerable choice.
$999.99
I hope you found this LG 65UM7300 review helpful? If you found the review helpful, click Yes to "Was this post Helpful?" below.
You could also review this product with the "Leave a Reply" form found at the end of this page.
For more television reviews, visit our Television Review page. You may also find our Television Specs page very helpful.
References And Further Reading
rtings.com – LG UM7300 TV Review
personal-reviews.com – LG 65UM7300PUA Review
tomsguide.com – 65-INCH LG UM7300PUA Review
techapa.com – LG 65UM7300PUA 4K HDR Smart LED IPS TV Review
itechguides.com – LG 65UM7300 Product Specs, Reviews, And Deal